Posted on July 3, 2013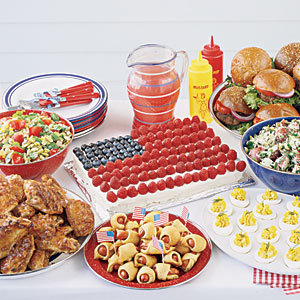 For most Americans, the 4th of July is synonymous with BBQ, corn on the cob, watermelon and ice cream. Sounds delicious and innocent enough, right? Well, depending upon how these foods are made, prepared or grown, these summer staples are often the very standard American foods that have been contributing to the decline of our nation's health. Here's how you can eat what you love and still keep healthy.
You've heard of the "Standard American Diet" also known as SAD? Terribly ironic. Especially when ailments like: allergies, IBS, IBD, autism, MS, heart disease, obesity, diabetes and cancer have been on the rise since the introduction of GM foods into the general food supply 20+ years ago. The evidence has been mounting for years that consuming pesticides or GM foods (genetically modified to survive copious amounts of pesticides) are wreaking havoc in our digestive and neurological systems. Another caveat, be careful NOT to burn your food on the grill. Once a food blackens, it become carcinogenic in the body, contributing to things like atherosclerosis, insulin resistance, Alzheimer's and even stroke. This means the dishes we sentimentally associate with summer celebrations are actually giving less cause for party and more cause for pain and suffering.
Now, I don't mean to be so morose and I promised that you really and truly CAN eat the dishes you love without fear of health complications. I suggest to you, as you get ready for the holiday weekend, consider pledging to eat ONLY organic and if you eat meat, only that which has been fed with an organic, pastured, anti-biotic and hormone free life. I look forward the 4th of July as much as anyone. I love the spectacular Fireworks display, going to the beach, having a beer or a glass of wine, eating corn on the cob, watermelon and heck--even having ice cream (Cashewtopia being my favorite!)
Avoiding eating dangerous chemicals and having a happy, healthy and fun-filled time with friends and family is easier than you think.
Just eat food!
Like our Grandparents used to. There was no such thing as "organic" because that was the only way to grow anything. When you buy packaged foods, look for ingredient lists no longer than 5 and/or be sure they are all food and items you know of and can pronounce.
Happy 4th everyone! Enjoy and be safe!