Posted on August 15, 2013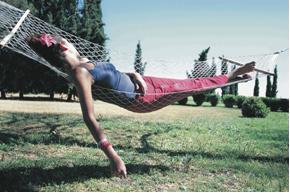 Summer is often a time for serious play, time off and deep relaxation. Many of us use the summertime to rebuild our reserves for the rest of the busy year, kind of the opposite of bears in winter hibernation. In our work-crazed society we can lose sight of the benefits of slowing down and taking time to rest.
Even though our body is healthiest when it is getting appropriate physical activity, we often feel dread and boredom when we hear the word "exercise".
Summer is a unique time of year when we can do both our relaxation and our movement out in nature. Take a nap in a hammock and enjoy the smell of freshly cut grass. Go to the park and meditate or read under a favorite tree. One of the greatest places to rest in the summertime is by the water. There is something magical and restorative in water, and we naturally crave to be near it, by it or in it. Heading to the water, whether it is the beach, a lake or a kiddy pool, can be relaxing and rejuvenating.